The Seal of the Kodenkan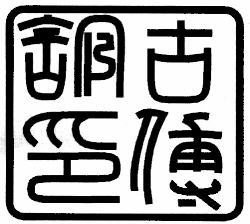 The seal reads (from right to left, top to bottom) "Ko Den Kan No In". In it's truest meaning, it stands for the "Way of Life" as envisioned by Professor Okazaki.
Literally, it translates to:
Ko - Ancient, Olden Times, or Senior
Den - Tradition, Transmission
Kan - School
"Seal of the school of Ancient Tradition, or School where seniors transmit tradition."
Traditionally, a seal such as this, stamped in a special orange or red ink, authenticated documents, such as certificates of rank and the Danzan Ryu Judo Moku Roku. This is a copy of the original seal used by Professor Okazaki.